LVS Proudly Welcomes Dr. Brian Bretz, Surgeon!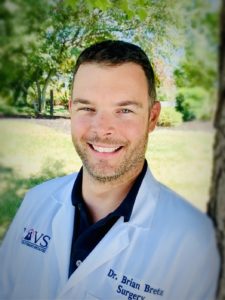 Lancaster Veterinary Specialties welcomes Dr. Brian Bretz to provide surgical services on a full time basis beginning September, 2019. Dr. Bretz grew up in the Bay Area of California and obtained both my undergraduate degree in veterinary science and veterinary degree from the University of California, Davis.  Following veterinary school, he completed a rotating internship at Garden State Veterinary Specialists in Tinton Falls, New Jersey followed by a joint residency in small animal surgery at Tufts University and the MSPCA Angell Animal Medical Center in Boston, Massachusetts.  During this time he had the opportunity to work with eleven different boarded surgeons, including a surgical oncologist.  This valuable experience allowed Dr. Bretz to learn multiple approaches and perspectives for any given procedure.
After becoming board certified by the American College of Veterinary Surgeons in 2010, he practiced at two referral hospitals in the greater Philadelphia area before joining Lancaster Veterinary Specialties. Dr. Bretz excels in all aspects of surgery including soft tissue,orthopedic, neurologic, oncologic and minimally invasive procedures.He has had the opportunity to lecture nationally and internationally on these topics. Dr.Bretz looks forward to serving the pets, pet owners and family veterinarians in the greater Lancaster area.
When it comes to surgery, you and your pet can trust the surgical team at Lancaster Veterinary Specialties. We use the latest surgical practices and technology for the best outcomes and shorter recoveries. Our surgical team will work closely with you and your family veterinarian to ensure that you receive the treatment that is right for your pet. Our team evaluates all surgical options to ensure that we safely and carefully meet your needs.
Stay tuned over the coming months, we will have a lot of exciting news from both the surgery service and the hospital as a whole. We promise to share those updates with you on a regular basis. Dr. Bretz looks forward to enhancing the excellent medicine, client service, and community outreach that the Lancaster region deserves!